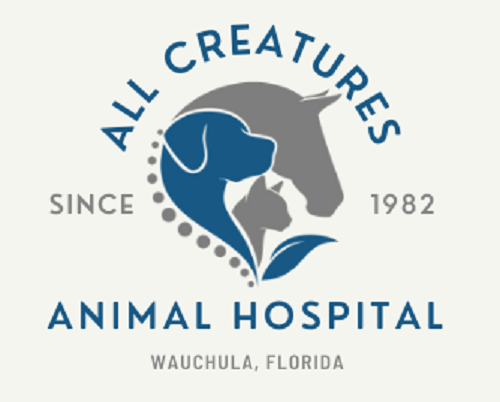 All  Creatures Animal Hospital
Boarding Policies
Please read this entire page, then click the link at the bottom to fill out the Boarding Pass.
General Information
As we have limited space available for boarding, we recommend that you call early for reservations. We board dogs and cats only.
Drop Off and Pick Up
Monday – Friday: 8:00 am – 3:00 pm
Saturday: 8:00 am – 11:00 am
*Accommodations outside of normal pick-up and dropoff times can be discussed and scheduled ahead of time.
Vaccines
To protect all pets that are staying in the hospital from infectious diseases, we require the following vaccinations:
Dogs
Rabies
Distemper/Parvo
Bordetella
Cats
Proof of vaccines are required. If your pet needs vaccinations prior to boarding, please schedule an appointment two weeks prior to boarding, if possible. Otherwise, your pet can be examined and vaccinated upon admission to the hospital. Please schedule an appointment if you would like to be with your pet at the time of examination and vaccination. 
External Parasites
All pets must have no evidence of external parasites. If parasites or evidence of parasites is found, your pet will be treated with an appropriate product at an additional cost.
Feeding
Owners are encouraged to bring their pet's own food when boarding. Diet changes of any kind can be stressful on pets. If your pet's regular food is not provided, we will feed a bland digestive diet.
Belongings
You are welcome to bring anything that will make your pet feel more at home. Be aware that o
ccasionally your dog or cat may have an accident on their bed or blanket while boarding.  Please consider this when bringing valuable belongings from home.
All Creatures is happy to
provide your pet with our comfy towels and blankets and appropriate toys
. 
Please permanently write your pet's first and last name on everything belonging to them. 
Bathing
We would be happy to give your pet a bath! Prices vary depending on weight.
Medications and Treatments
While your pet is boarding here, we will always care for any medical needs that arise. We will not call you concerning minor treatments and will keep charges to a minimum as needed. This includes the treatment of internal and/or external parasites. If fleas are found on any animal entering for boarding, appropriate flea control products will be used. If an actual emergency or more complicated medical concern arises, we need to be able to call you or your representative to discuss medical decisions and treatment plans. If we are unable to reach anyone, we will proceed with treatment as needed while continuing attempts are made to reach you.
Click Here to Fill Out Our Boarding Pass
A Boarding Pass must be filled out for your pet to be boarded!